VICO Therapeutics – Branding & Website for a leader in RNA modulation
Creating a brand, animated logo and scaleable website for a brand new biotech company treating genetic neurological diseases at the source
VICO Therapeutics (Leiden, The Netherlands) treat genetic neurological diseases at their source. They are leaders in RNA modulation with antisense oligonucleotides focused on genetic neurological disorders. Their pipeline of programs includes VO659, currently being developed for multiple polyglutamine disorders, spinocerebellar ataxia type 3 and type 1 and Huntington's disease. VO659 targets the CAG repeat expansion in an allele preferential manner, is reversible and transient in nature and does not change DNA code.
VICO Therapeutics has been active since late 2019. Their public facing website launched early 2020.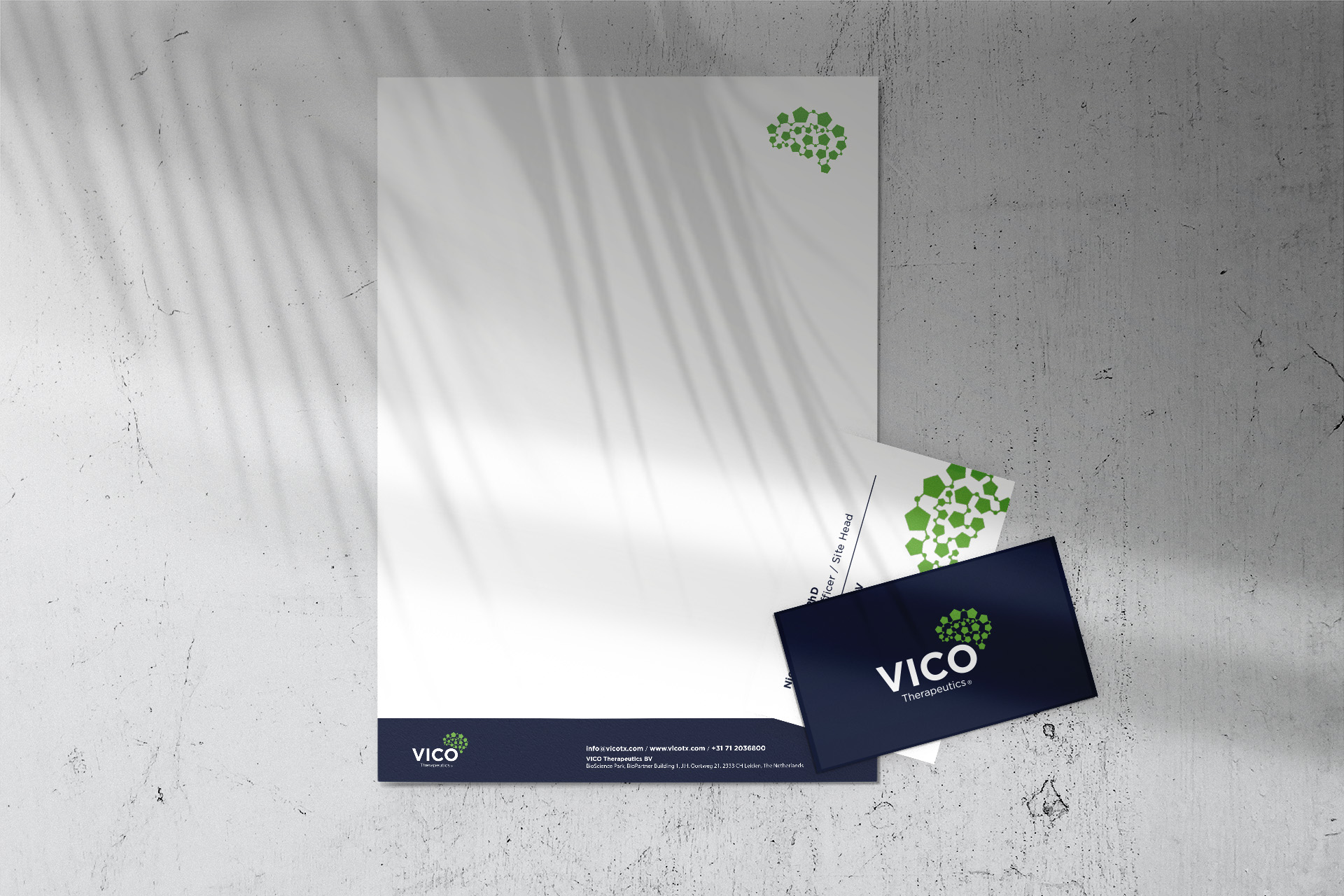 VICO Therapeutics approached us by the end of 2019. At this point in time they were focussing on officially launching their company. Parallel to the paperwork they wanted an agency to work on their branding and website, so they could be ready to launch publicly as soon as they had their incorporation & press release ready.
The VICO team already had a logo ready we had to use as a starting point for the branding. Seeing as the team was already fond of this logo we decided to stick closely to the initial look & feel, only slightly tweaking it's design and experimenting with different fonts and colours.
We took the original logo the VICO team had created themselves and tweaked it slightly, as well as created a brand with matching typography and colors around their logo. We provided VICO Therapeutics with business cards, email signatures, letterheads, social media banners, PowerPoint templates and an animated logo.
For their website we decided to use our trusty CMS: WordPress. Due to it's flexibility and ability to grow alongside a business it was the perfect fit for VICO's future website. By keeping WordPress up-to-date and through implementing our approach on security VICO TX's website remains safe from malicious users & hacking attempts.
Since 2020 we've been managing VICO TX's website. As of writing the website has been visited by over 50.000 unique users. We're always at the ready to work on any requests the VICO team may have, like adding press releases to their website or expanding their careers page to more easily add roles they are looking to fill.
Over the years we've made multiple updates to VICO's branding, as well as providing the team with new email signatures and business cards every time they grow their time.
Pipelines are an important part of every biotech company's website. We paid extra attention to VICO;s pipeline by making it fully responsive. On desktop their website visitors see the classic pipeline that most are used to. On mobile this pipeline collapses into multiple smaller pipelines to allow for easy interpreting of each of VICO TX's products and how they are progressing.